Welcome to the virtual home of The Thurgood Marshall Eagles, where our scholars strive to do Justice to education by, every day, embracing the Marshall Mantra to: BE RESPECTFUL, BE RESPONSIBLE, & BE READY TO LEARN!
Thurgood Marshall School is located in the Olney section of Philadelphia, at 6th Street and Duncannon Ave.  We are proud to be a diverse school of just over 800 Kindergarten – 8th grade students, 60% African American and 30% Hispanic/Latino. We also play host to two early childhood classrooms, where 40 preci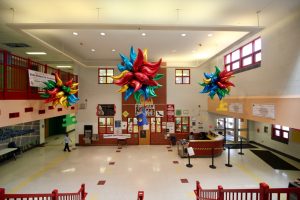 ous head start students/families are serviced.  We have one of the largest populations of students with special needs in the district, with 10 classrooms, servicing students with autism, students in need of life skills instruction, and students with complex needs.
Thurgood Marshall Elementary School embraces partnerships.  We have dedicated parents who offer daily service to the school as part of the Home and School Association.  We have a burgeoning School Advisory Council to assist us with school governance and community outreach.  One of our chief partners is City Year Philadelphia, an amazing Americorps program that helps us with bridging the achievement gap and helps to keep our young people on track.  We partner with Cora Services to offer afterschool programming.  CHOP and Devereux are our partners in the implementation of our Positive Behavior Intervention System.
We have recently begun partnerships with the Philadelphia Chapter of the Clark Atlanta University Alumni Association and the Philadelphia Conference Branch of the Women's Missionary Society of the A.M.E. Church.  In service to our young learners, and to our families, we are always looking for additional supports, with the realization that the need is far greater than we have the human, physical, or capital resources to meet.